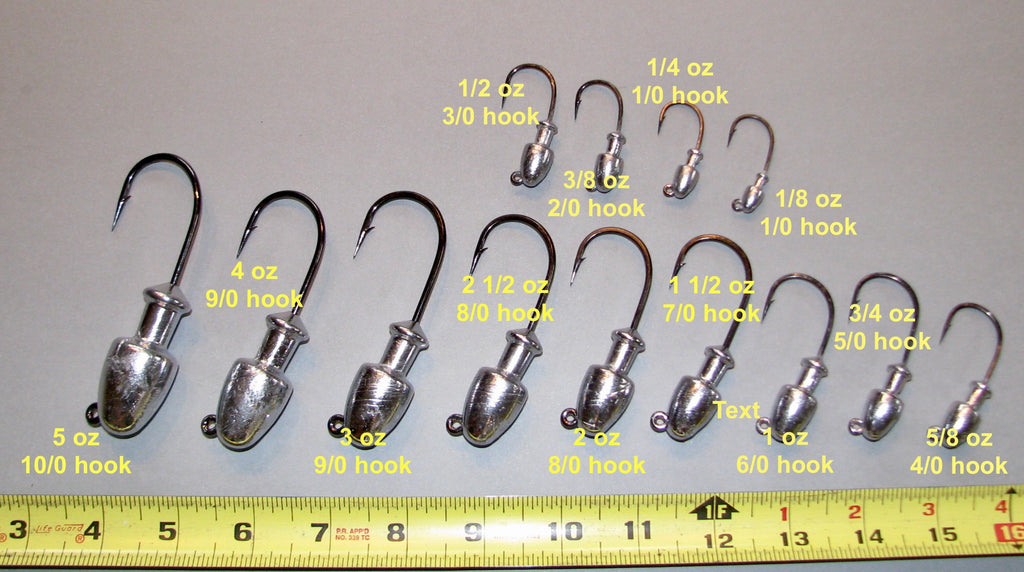 Bare Bullet Head Jigs. NEW STYLE!
A lot of guys like to paint and tie their own heads or at least try their hand at it but the cost of gearing up to pour the heads is prohibitive.  It also requires a well ventilated place to do it.  Result is they just don't do it.  Here's a possible solution.  Bare heads at a reasonable cost and readily available.
     What you see here is a whole new Bullet Head Bucktail jig. They are designed from the hook out to overcome some of the things I didn't like about the old style head. 
     First is a new head shape.  The old type is just too blunt, especially in the smaller sizes.  This is more streamlined like a fish.
     Next is the hook.  These use Mustad #32824 60º, 2x strong, forged and Black Nickel plated hooks.  They are sharper than the old Mustad 34184 and 34185's, have a smaller barb so the hole in the fishes mouth is smaller and the gap is bigger which makes better hookups.
     The tying collar is also better because it features a taper that won't allow the dressing to slip.  In addition the tying collar sizes are more consistent from one size to the next.
     Hook eye placement is a true forward balanced position, giving the head a near ideal presentation when fishing a beach or jetty or wading.
     By having a complete new set of molds made two other issues were addressed. Gaps in the sizes offered have been eliminated and weights are now more accurate.
     These make a great basis for your own ideas about tieing Bucktails for Striped Bass, Fluke, Weakfish, Redfish, Channel Bass, Largemouth Bass, Smallmouth Bass, Pike Pickerel, Musky and more.
     Here they are.
---