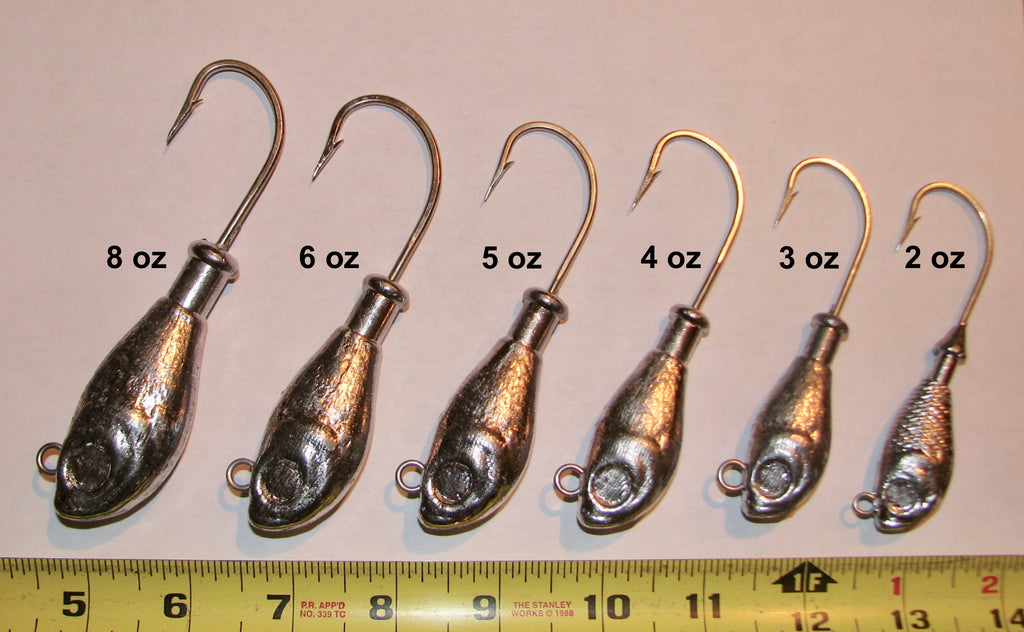 Bare LARGE Forward Balanced Ultra Minnows
These are a scaled up version of the well known Ultra Minnow style jig head but with a twist. They are Forward Balanced for a more realistic presentation in low line angle situations.  Meant for casting or trolling these bare heads are a great starting point for the home tackle maker to start.  
To give you an idea of what they would look like, finished versions of these can be found in another listing here on TinmanTackle.com.  They were requested by a New Jersey guy that wanted a large profile bucktail he could cast from his boat in Raritan Bay.  He was very successful with Cow Stripers in the Spring and I had a chance to try them myself recently.  The result was 2 Stripers in the 25 lb range the first time I used them.  
As far as what can be done with them only your imagination is the limit.  You'll receive them as bare lead with all edges and parting lines cleaned up and ready for paint.  As usual hooks are Mustad 2x strong, forged and plated to resist rust in saltwater.  In addition the line tying eyes are stainless steel  again for strength and prevention of rust.
A lot of guys like to make tackle at home but don't want the investment, mess or hazards of dealing with molten lead.  Like all the other bare jig heads I offer these eliminate those problems.  If you're looking for a starting point for making tackle at home these would be a good idea.
One last note.  Smaller versions of these are also available here on TinmanTackle.com
---