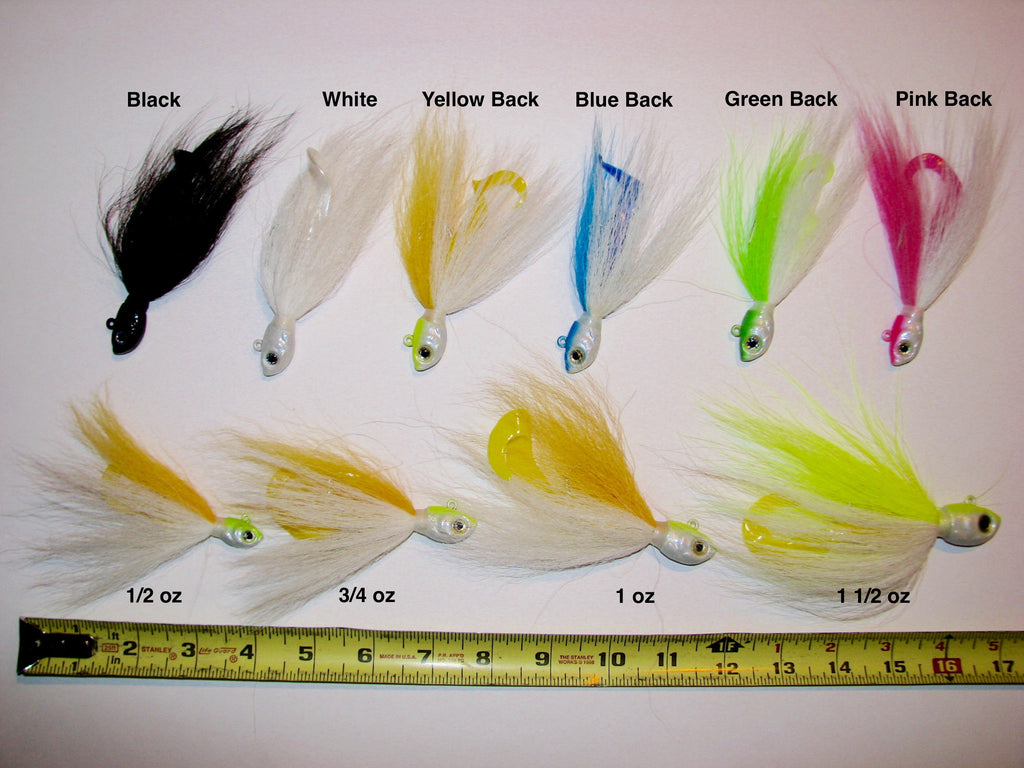 For Kayak Guys!
 Fishing from kayaks has become the biggest and latest thing to hit the light tackle sport fishing world.  Kayak design and innovation has progressed rapidly to accommodate the needs of the fishermen using them.  Kayak guys are at the "cutting edge" of fishing evolution.  In keeping with that spirit and with the help of a couple accomplished kayak guys I've come up with a new bucktail to add to their arsenal of lures.  Also in keeping with that spirit I've named it For Kayak Guys.  
Here it is.  At first it may look like just another Spro, Ultra Minnow or guppy type lure.   In fact it starts that way but quickly changes.  The head section is realistic looking but shorter, there's a flaring collar for tieing bucktail and a fairly aggressive barb for also holding a soft plastic grub tail. Bucktail gives it flair and the grub tail adds a nice wiggle action at the end.  
Using quality materials and construction is a standard that I won't compromise and these are no different.  Hooks are Mustad #91715, forged for strength and plated for salt water use.  Eyes are 3D and extra glued in place to stay.  Paint is heat cured powder primary coat and sprayed vinyl for accent colors.  In the case of two colors an over coat of either epoxy or clear powder is added to lock it all together.  Dressing is deer hair and the wraps are epoxy coated for durability.  The grub tails are intentionally sized large enough to be visible beyond the hair so that seductive wiggle is visible.
Four sizes and six color combinations give you lots of variety to choose from.  Striped Bass, Bluefish, Fluke/Summer Flounder, Weakfish, Sea Trout, Redfish, Channel Bass.........the list is long but you get the idea.  There's a lot to fish for with these.  You fresh water guys may want to consider these too.  
---