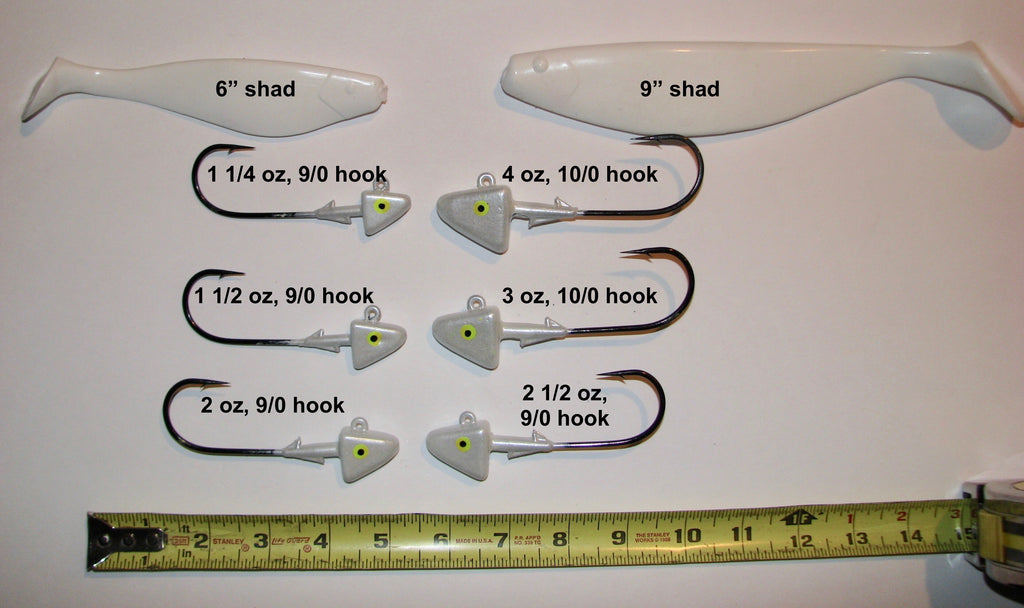 Shad Heads w/MEGA size hooks.
Like it or not sometimes size does matter!  Serious Striped Bass hunters will tell you that and it's true.  Big fish want big bait.
What you see is the conventional Shad Head with a barbed tail for holding soft plastic but with a difference.  Instead of the normal Mustad jig hooks these are made with the bigger gap Mustad #32824 hooks.  They are forged, 2x strong and black nickel plated for serious saltwater use.  On a size for size basis these hooks are slightly shorter than the Mustad #34184 long shank jig hook and they have a bigger gap.  In addition there are two larger sizes and  that's what is being used in this listing, the 9/0 and 10/0 sizes.  All in all a hook that is much better suited to catching big cows.
The picture shows the sizes available with the bigger hooks and 2 sizes of paddletail shads as a comparison.  The shads can be found in another listing here on Tinman Tackle.
These are available in bare lead or painted with heat cured powder coat for toughness.  The colors available are white, black, chartreuse, pink, red and blue.
If you want a different color than listed we may be able to work that out.  Email me before ordering at sales@tinmantackle.com
Thanks for looking and good luck fishing.
---