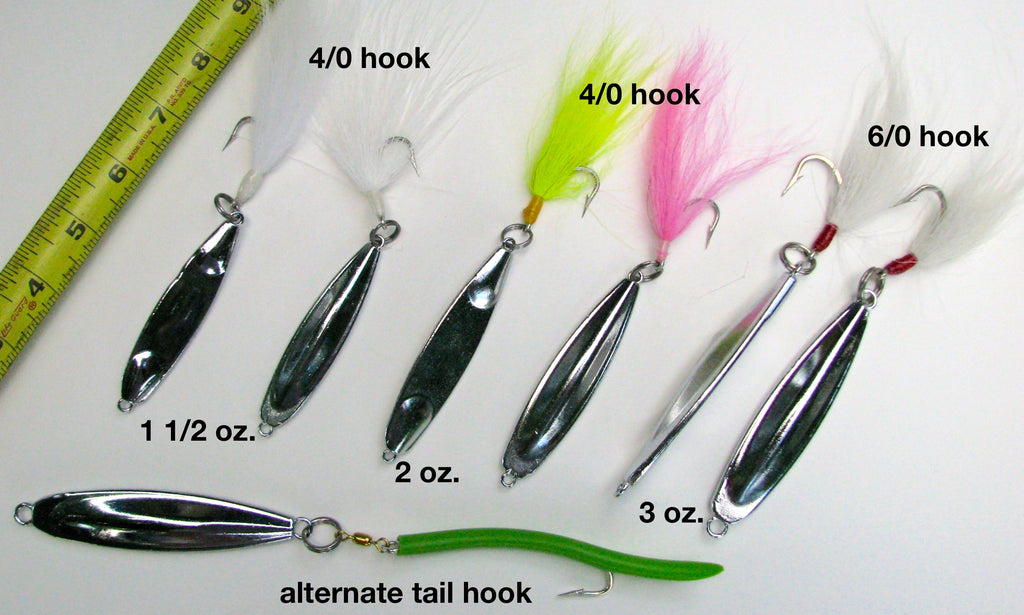 Squids!
Call them squids or keeled slab spoons or whatever you want.  They are a great classic surf casters lure.  
The ones shown here are an updated design of the old Able Lures "GT" series.  One thing I never liked about squids in general was the way the pull point was placed in the lure.  It was a grommeted hole cast into the front.  This required a split ring be added or a very large snap like a Duolock style.  That has been eliminated by using a smaller separate eye cast in.  Because it's a  smaller brass eye a split ring is no longer needed.  You can use a smaller snap or clip for attachment.  
Three sizes are available, 1 1/2 oz, 2 oz and 3 oz.  They are lead with triple chrome plating.  Two different hook arrangements are offered.  The first is a deer hair dressed Mustad #9175, 2x strong plated and forged hook.  The hair wraps are epoxy coated to withstand toothy fish like Bluefish and Spanish Mackeral.  The second is a tube tail for a longer profile.  Hooks used are Mustad #31022 kirbed to flutter and rotate.  Tubing is latex surgical tubing, the best to hold up to Blues.  Colors are as listed.
If you need casting distance or are casting into a wind these would be a good choice.  Stripers, Bluefish, Weakfish, Redfish, and others are all possible with the all time classic squid.
---