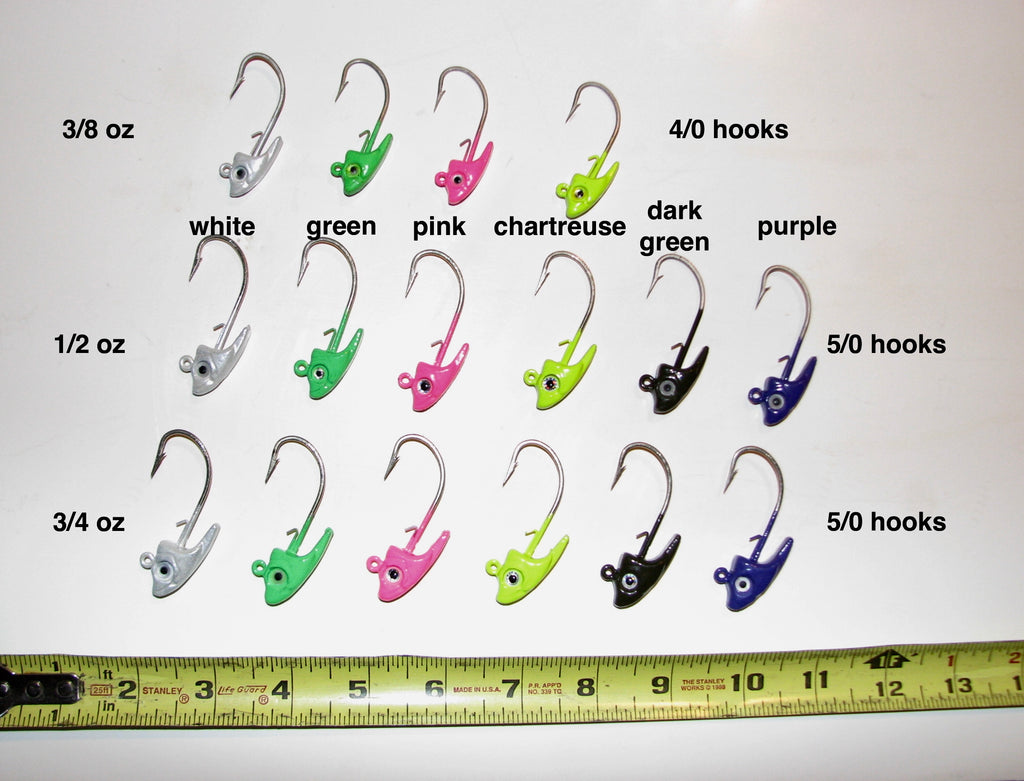 Swim Bait Heads
     Swim bait heads are the newest addition to use the very popular Paddle Tail Grubs and Paddle Tail shads listed elsewhere on this site.  They make a great combination with the soft plastics mentioned and also with twister tail grubs.  Forward balanced for shallow water use, they'll be great for light surf, river and back bay fishing.
     Three sizes, 3/8 oz with a 4/0 hook, 1/2 oz with a 5/0 hook and 3/4 oz also with a 5/0 hook.  The hooks are Mustard #34185 forged and plated for rugged saltwater use.  A wire "keeper" is molded in along the hook shank to hold soft plastic securely.  Paint is heat cured powder coat to stand up to hard use.  Colors are as shown.  They'll be available as individual heads or in sets, your choice.
NOTE: Because Mustad is discontinuing it's #34185 line of jig hooks it has become necessary to substitute them with another good high quality jig hook.  That is the Mustad #32824, a 2x strong, forged black nickel finished jig hook.  Until current stocks of the former hook is depleted there will be a mix of both styles used.  Eventually the latter hook will be used thru out.
     I'm looking forward to using these for Fluke (summer flounder) in the surf.  That's my favorite way to catch'em!
---