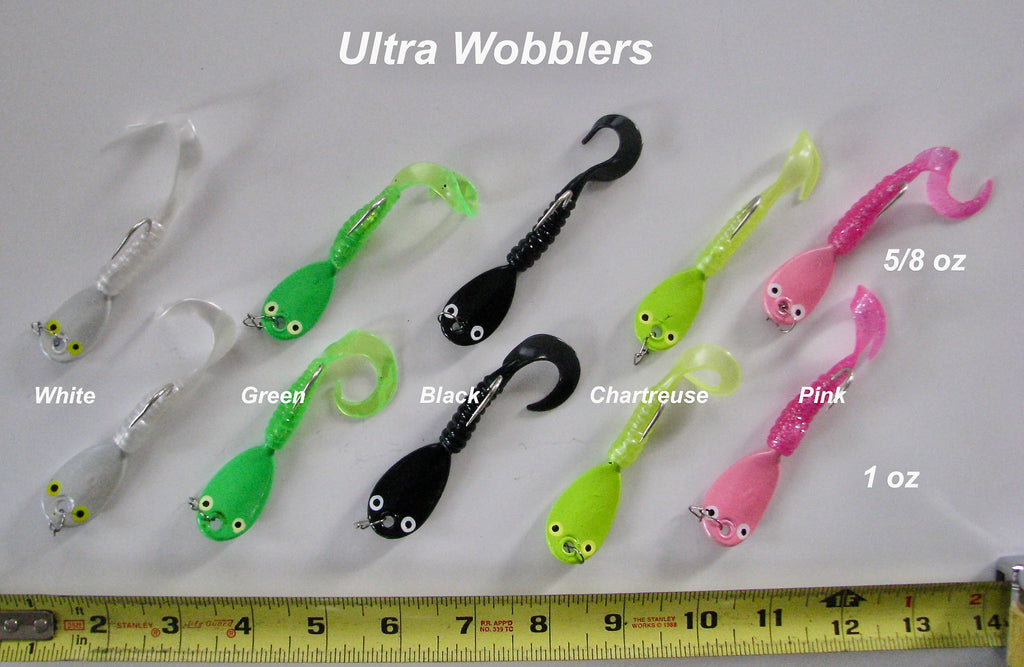 Ultra Wobblers
This is the third version of my Wobble Jigs with one more to go after this.  While this one looks similar to the Super Wobbler there is a major difference.  An additional curve has been added giving it a more or less saddle shape.  The result is additional wobbling action that can stand up to and add action to larger soft plastic tails.  Most lures have a limit as to how much tail they can carry without their natural action being snubbed.  The previous version, the Super Wobbler has a limit of about 6" in tail length.  The Ultra Wobbler can handle up to and probably beyond an 8" eel.  As in all cases good materials and practices are used to make them.  Heat cured powder coat, Mustad forged and plated hooks, swaged eyelet liner on the line attach hole and the recommended Duolock style snap installed are all part of the manufacturing process.
I mentioned one more version to go in this product line.  It will be a larger version specifically made to use rigged plastic or real eels.  The prototype versions have been tested and proven.  It's now a case of getting molds made and that takes time.
Thanks for looking and good luck fishing.
---